AI will soon be under the microscope by the UK government, starting this week.
The government is set to examine the economic impact that AI is having and will have on the economy.  This 'digital strategy' will be published as soon as possible and will also take into account the fall-out from Brexit.
We wanted to ask you: "What affect do you think Brexit will have on the UK's digital economy?" Answer 'positive', 'negative', 'neutral', or 'don't know' by clicking below, and please leave a comment as well.
Positive    Negative    Neutral   Don't Know
Best,
Tabitha UntiltheBotsTakeOver Goldstaub 
UK Digital Strategy: government will soon be examining AI's impact on the economy
The UK government is going to lead a "major review" into what AI means for the country's economy as part of its long-awaited Digital Strategy. Officials at the Department for Culture Media and Sport (DCMS) say its review will look at how the government and firms can work together to "back the technology" in the coming years.
The review will be led by the University of Southampton's computer science professor Wendy Hall and Jerome Pesenti from BenevolentAI. "There has been a lot of unwarranted negative hype around AI, but it has the ability to drive enormous growth for the UK economy, create jobs, foster new skills, positively transform every industry and retain Britain's status as a world leader in innovative technology," Pesenti said.
Education and Advice We Rate
How AI can help us to build knowledge and understanding in the echo chambers of life
How are we to navigate through the deluge of information and data that we come across on a day-to-day basis? How are we to sift through it to learn the truth and to make complex decisions? Rose Luckin, Professor of Learner Centred Design at UCL Knowledge Lab, argues that AI (combined with human intelligence) is the answer.
She argues that "AI can analyze and visualize complex data and information in order to literally help us see the 'wood from the trees'. AI can be built to model human understanding and to justify the decisions and predictions that it makes."
Motorola picks Amazon's Alexa as its voice assistant
Motorola has announced a partnership with e-commerce giant Amazon that will see the latter's voice assistant tech embedded natively into most of Motorola's devices in future.
"Later this year will see deep integration of Alexa on Motorola smartphones with Alexa wake-up words. There won't be any keys to press, no screen to unlock — you will simply talk to Alexa when the device is around," said Motorola's
Dan Dery, VP global product lead, speaking at a press conference at the Mobile World Congress tradeshow in Barcelona.
Motorola is not the first company to announce a plan to pre-load Alexa onto its smartphone hardware — back at CES Huawei said it would be doing so on a mid-range phone destined for the US. However the partnership with Motorola for handsets appears far more extensive. (Though Alexa can already also be found in all sorts of other types of devices.)
Ethics Question for the Day
It's Easy to Slip Toxic Language Past Alphabet's Toxic-Comment Detector
When David Auerbach, technological writer, toyed with Perspective (which we discussed this past Friday) the results were erratic.
Perspective rates comments on a 1 to 100 scale for "toxicity," defined as "a rude, disrespectful, or unreasonable comment that is likely to make you leave a discussion." "Screw you, Trump supporters" is judged to be highly toxic, while "I honestly support both" is not, for example.
Unfortunately, it ran into problems when more cryptic slurs and derogatory comments were tested. Thus, "Trump sucks" scored a colossal 96 percent, yet neo-Nazi codeword "14/88" only scored 5 percent. As Auerbach previously argued, the current state of machine learning doesn't permit software to grasp the intent and context of comments. By doing surface-level pattern matching, Conversation AI may be able to filter stylistically—but not semantically.
Ducati Corse races ahead of the pack with Accenture and machine learning
Ducati Corse, the racing department of Ducati Motor Holding, a world leader in sports motorcycle manufacturing, is working with Accenture to integrate IoT and AI technologies into the testing of its MotoGP racing bikes.
Ducati Corse wants to make testing its race bikes faster, cheaper and more effective. Accenture Analytics, already Official Digital Partner to the Ducati Team racing in the MotoGP World Championship, has lately been working with them to create an intelligent testing approach with a bespoke analytics engine. Integrated Machine Learning technologies mean that the more data that enters the system, the more configurations are available for testing with increasingly accurate performance predictions.
Video Killed the Radio Star
Inside Forward's high-tech doctor's office
Forward is a new type of medical startup in San Francisco which incorporates the latest and greatest of technology. Access to this futuristic primary care practice is $149 a month, for now, and it is billed annually. There are no co-pays and Forward doesn't take insurance. But the membership — like with Netflix or a health club — covers an all-you-can-eat set of services from the practice — doctor's visits, the baseline screening, access to Forward's team of doctors and nurses over email, ongoing monitoring through wearable devices, and even some medications and supplements.
TechCrunch visited their flagship location to see how it works. Check out the video below to see Forward for yourself.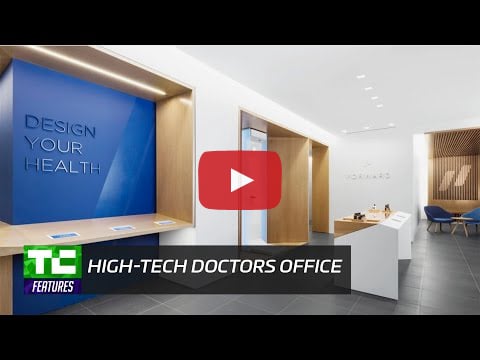 Facebook's Prophet: forecasting at scale
Last week, Facebook announced that is was open sourcing Prophet, a forecasting tool available in Python and R. Forecasting is a data science task that is central to many activities within an organization. For instance, large organizations like Facebook must engage in capacity planning to efficiently allocate scarce resources and goal setting in order to measure performance relative
to a baseline. Producing high quality forecasts is not an easy problem for either machines or for most analysts.
Facebook argues that Prophet's key advantages are: 1) Prophet makes it much more straightforward to create a reasonable, accurate forecast and 2) Prophet forecasts are customizable in ways that are intuitive to non-experts. 
I've been making some changes based on Feedback. Would love to hear from more of you. Please do click to share your thoughts! 
Save
Published in