Charlie and I are honoured to be attending the All Party Parliamentary Group on Artificial Intelligence (APPG AI) on 20th March.  Since the session may influence decision-making in government, we'd appreciate your thoughts on 'what sector the government should focus its AI-related spending on'. Answer the survey below and please leave a comment as well.
Fintech
Healthcare          Cybersecurity          Automobiles
Others
We look forward to seeing some of you there and reporting back on the event.
Best,
Tabitha UntiltheBotsTakeOver Goldstaub
Ethics Question for the Day
Pros and cons of the Algorithm Age
As with everything else there are pros and cons when it comes to algorithms. Are the glass half-full or half empty? Pew Research Center and Elon University's Imagining the Internet Center conducted a large-scale canvassing of technology experts, scholars, corporate practitioners and government leaders. They asked:  Will the net overall effect of algorithms be positive for individuals and society or negative for individuals and society in the next decade? Some 1,302 responded.
 Some believe they will mainly be of benefit to humans and society, others  worry that it will be the opposite. The non-scientific canvassing found that 38% of these particular respondents predicted that the positive impacts of algorithms will outweigh negatives for individuals and society in general, while 37% said negatives will outweigh positives; 25% said the overall impact of algorithms will be about 50-50, positive-negative.
Video Killed the Radio Star
Probabilistic machine learning: foundations and frontiers (Strachey Lecture, Oxford)
Professor Zoubin Ghahramani, professor of machine learning and recently appointed chief scientist at Uber AI Lab, delivered the Strachey lecture about probabilistic machine learning and its applications, as well as implications.
Probabilistic modelling provides a mathematical framework for understanding what learning is, and has therefore emerged as one of the principal approaches for designing computer algorithms that learn from data acquired through experience. Professor Ghahramani reviews the foundations of this field, from basics to Bayesian nonparametric models and scalable inference. He will then highlight some current areas of research at the frontiers of machine learning, leading up to topics such as probabilistic programming, Bayesian optimisation, the rational allocation of computational resources, and the Automatic Statistician.
Two out of three consumers don't realize they're using AI
Inbound marketing company HubSpot has been looking at consumer sentiment towards AI and chatbots. It has released its Global AI survey for Q4 2016.
In its survey of more than 1,400 people from Ireland, Germany, Mexico, Colombia, UK, and the US, HubSpot found that many respondents did not know that they were already using
AI.
37 percent of respondents said they have used an AI tool. However, of the respondents who said they have not used AI, 63 percent were actually using it. They just were not aware that they were.
Applying data and machine learning to scale education
Daphne Koller, Chief Computing Officer and Co-founder of Coursera, gave a lecture about the founding of Coursera and how they are using data science to teach data science. When she (along with some other students at Stanford) saw that the courses that they put online were attracting over 100K viewers, they realized that there was a serious market for online learning.
She discusses how Coursera understands their learners (by recommending courses based on country, economic standing, etc.). She also explains the differences between building an education website versus other types of sites and how Coursera uses a two-level hierarchy and decision trees to cluster the courses.
AliveCor CEO sees role for machine learning in medicine
Vic Gundotra, AliveCor's chief executive officer, discusses the company's medical technology and the role of machine learning in medicine with Bloomberg's Caroline Hyde on "Bloomberg Technology."
He discusses the company's new product, aimed at physicians which allows the doctor to monitor all of their patients who are using AliveCor technology. They can monitor weight, view EKGs, and more. He believes that doctors will be skeptical until they see "that the data that they are seeing is
useful."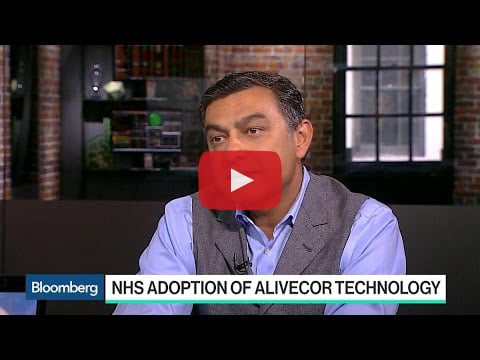 BMW says self-driving car to be level 5 capable by 2021
German carmaker BMW is on track to deliver a self-driving car by 2021, the company's senior vice president for Autonomous Driving, Elmar Frickenstein, said on Thursday. "We are on the way to deliver a car in 2021 with level 3, 4 and 5," Frickenstein told a panel discussion in Berlin, explaining the vehicle will have different levels of autonomy, depending on how and where it is used.
A level 5 vehicle is capable of navigating roads without any driver input, while a level 3 car still needs a steering wheel and a driver who can take over if the car encounters a problem.
The Washington Post preps its AR push
The Washington Post plans to use AR to enhance its reporting and storytelling in 2017.
The Post first used AR last year to explain the events that led up to Freddie Gray's arrest death in Baltimore in 2015. But people had to download an app to access the experience. Since then, the Post has been building an AR framework into its two existing apps — its magazine-style "Rainbow" app and its more traditional, newspaper-style app — to take friction out of the process.
It plans to launch its first AR story this spring, and then one per quarter. The first will be for a series by its art and architecture critic Philip Kennicott that will examine new, innovative buildings. AR will be used to let people look around the interiors and listen to narration using their smartphones.
AI agents are learning to communicate (OpenAI)
The authors' hypothesis is that true language understanding will come from agents that learn words in combination with how they affect the world, rather than spotting patterns in a huge corpus of text. As a first step, they wanted to see if cooperative agents could develop a simple language amongst themselves.
Their approach yields agents that invent a (simple!) language which is grounded and compositional.
They hope that this research into growing a language will let us develop machines that have their own language tied to their own lived experience. They think that if we slowly increase the complexity of their environment, and the range of actions the agents themselves are allowed to take, it's possible they'll create an expressive language which contains concepts beyond the basic verbs and nouns that evolved here.
I've been making some changes based on Feedback. Would love to hear from more of you. Please do click to share your thoughts!
Published in