Alphabet sells Boston Dynamics. AI + the gender gap. Ocado's robot-packed factory. https://cognitionx.com/news-briefing/
If you haven't seen Boston Dynamics animal-like, sort-of-strange robots, then go see them now….what'd you think? Pretty crazy, no? Alphabet has just announced that they are selling Boston Dynamics to Japan's Softbank (who we've seen in the news recently for their legendary $100B tech fund).
As to why they decided to do this, it is not entirely clear. Some suggest that it is in line with the fiscal philosophy of Alphabet CFO, Ruth Porat, who is "sweeping out moonshot projects and units that, even if they are cool, stand very little chance of kicking out a practical, profitable product anytime soon."
Also, congrats to CognitionX advisor and investor, Brent Hoberman, who has unveiled a new $60 million European startup fund.
Want to know which AI companies are hot and ripe for investment? We've got just the list for you…
Ladies and gentleman, we are pleased to announce (drum roll, please…) the finalists for the inaugural CogX AI Innovation Awards. The AI Innovation Awards have been judged by a panel of experts from the advisory board of CognitionX. Entrants were judged on their product idea, the team and the long-term sustainable advantage of the product. The result is a shortlist of finalists representing the most innovative and disruptive businesses in the world of AI. Check out the finalists here and don't forget to buy your tickets to the Awards Gala Dinner (June 21st) before they sell out.
To explore what the next major AI investment opportunities will be and how to get the timing right, come to hear about Investing in AI at CogX on Tuesday June 21st.
Best,
Tabitha UntilTheBotsTakeOver Goldstaub
P.S. 8 days till CogX.  Be there or be intelligence artificial.
Alphabet sells off robot maker Boston Dynamics to Softbank
Google's parent company Alphabet has sold robotics firm Boston Dynamics to Japan's Softbank for an undisclosed sum, over a year after putting it up for sale. As part of the deal, Softbank also purchased Schaft, a lesser known Alphabet robotics subsidiary.
Boston Dynamics is best known for its "BigDog" line of quadrupedal robots, first developed to serve as artificial pack animals as part of a military contract with America's Darpa research agency. The robots, alongside the humanoid "Atlas" machine and wheeled hybrid "Handle", have become viral sensations online, thanks to their eerily lifelike movements, unnerving high-pitched motor sounds and the videos themselves, which feature Boston Dynamics staff torturing their creations with pushes, kicks, shoves and heavy weights to demonstrate their versatility and reliability.
+Like robots? Come to one of CogX's most popular panel, Impact of AI on Design, Manufacturing, Robotics & IoT.
Artificial intelligence can now predict suicide with remarkable accuracy

Colin Walsh, data scientist at Vanderbilt University Medical Center, and his colleagues have created machine-learning algorithms that predict, with unnerving accuracy, the likelihood that a patient will attempt suicide. In trials, results have been 80-90% accurate when predicting whether someone will attempt suicide within the next two years, and 92% accurate in predicting whether someone will attempt suicide within the next week.
The prediction is based on data that's widely available from all hospital admissions, including age, gender, zip codes, medications, and prior diagnoses. Walsh and his team gathered data on 5,167 patients from Vanderbilt University Medical Center that had been admitted with signs of self-harm or suicidal ideation. They read each of these cases to identify the 3,250 instances of suicide attempts. You can find the paper here (paywall).
Robotic tool to reduce the consequences of a stroke
Researchers have developed a new robotic tool that may in combination with standard rehabilitation programme improve the mobility of patients surviving a stroke. Stroke, known as a leading cause of long-term disability, is a sudden loss of brain function, caused by the interruption of blood flow to the brain or the rupture of blood vessels in the brain and an estimated 1,50,000 people die from it each year. As a consequence of stroke, the survivors are often left with muscle over-activity, including spasticity, characterised by tight or stiff muscles and an inability to control those muscles.
The study showed that the new robotic tool may help in assessing muscle overactivity and movement dysfunction in survivors of stroke. The rehabilitation robotic system was found to quantitatively measure the three degree-of-freedom (DOF) impedance of human forearm and wrist in minutes.
City analysts disappointed by Ocado's robot-packed factory
"It looks like a hybrid of dodgems and Pac Man," says Shore Capital's George Mensah. Analysts who made the trip to Andover say they were impressed by the ingenuity on display. The system aims to be more efficient than humans. It marks an upgrade from the conveyor belts used at Ocado's two other CFCs, at Dordon in Warwickshire and Hatfield in Hertfordshire.
But if the showcase was meant to inspire investor confidence in Ocado's ability to roll out its business model across Europe, it failed. The day after the tour, Ocado shares slumped by 7.9pc, their biggest one-day fall for nine months. The Andover facility, which opened last November, is only running at about 10pc capacity and still has obvious glitches that needed ironing out, analysts told clients on their return.
Ethics Question for the Day
AI and bridging the gender gap
Debrah Lee Charatan, co-founder, principal, and president of BCB Property Management presents 4 essential steps for giving women entrepreneurs a leg-up:
Have a dream and stick to it
Don't be afraid to ask for help
Learn to communicate
Know your worth
Also, a new AI platform from The Circular Board in partnership with Dell and Pivotal claims to be the missing puzzle piece needed for women to finally receive their due. Alice connects women with mentors and potential funding partners, along with resources like financial planning advice and relevant event listings. The goal is to provide female entrepreneurs with everything they need to eliminate the gender gap and succeed in a workforce that is actively pushing back against them.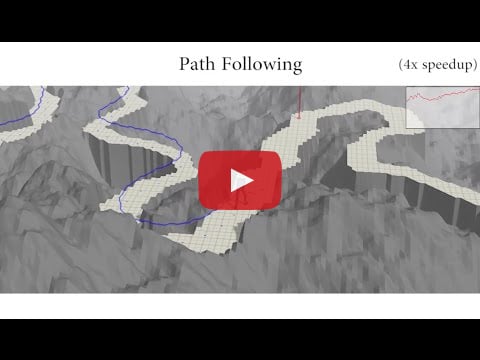 Intelligent Autonomous Robots with Ilia Baranov – TWiML
In this episode of TWiML,  Ilia Baranov, engineering manager at Clearpath Robotics discusses the field of autonomous robots. Ilia is responsible for setting the engineering direction for all of Clearpath's research platforms. Ilia likes to describe his role at the company as "both enabling and preventing the robot revolution." He's a longtime contributor to the Open Source Robotics Community and ROS, an open source robotic operating system. He is the also the managing engineer of the PR2 support team at Clearpath and leads the technical demonstration group.
In their conversation, they cover a lot of ground, including what it really means to field autonomous robots, the use of autonomous robots in research and industrial environments, the different approaches and challenges to achieving autonomy, and much more!
I've been making some changes based on Feedback. Would love to hear from more of you. Please do click to share your thoughts!
Published in