AVs in China. AI + Europe. New stroke detection tech. http://www.cognitionx.com/news-briefing.
According to a recent Gartner report, AI will be worth $1.2T to the enterprise 2018. If that doesn't point to the massive impact AI is having and will have, we don't know what would.
For the manifold ways that AI is transforming the world, we'd highly recommend a Brookings report published yesterday by Darrell M. West and John R. Allen.
They discuss novel applications in finance, healthcare, transportation, and more and provide 9 recommendations for maximising AI's benefits such as to 'encourage greater data access for researchers without compromising users' personal privacy'.
Read on to learn about self-driving cars in China,  AI in Europe, new stroke detection tech.
Best,
Tabitha UntiltheBotsTakeOver Goldstaub
P.S. We're hiring! We're looking for a Consulting Director, Junior Chatbot Analyst, Senior Front End Developer (React + Redux) and more here. Forwarded this email? You can subscribe here.
Riding in a self-driving car on the streets of one of China's most congested cities
On a breezy April afternoon, Quartz took a ride in a self-driving Lincoln MKZ on the streets of Guangzhou, a city home to some of the worst traffic congestion on earth. The vehicle was powered by technology from Pony.ai, a Chinese startup founded by two former executives at the self-driving car unit of search giant Baidu.
The company is young—it was established in December 2016 and still works out of a co-working space with decor featuring pictures of Facebook's Mark Zuckerberg and Apple founder Steve Jobs. But it's already testing vehicles with level-four autonomy—cars that can drive on their own in all but the most challenging conditions—the same as Waymo, the self-driving unit of Google's parent company Alphabet.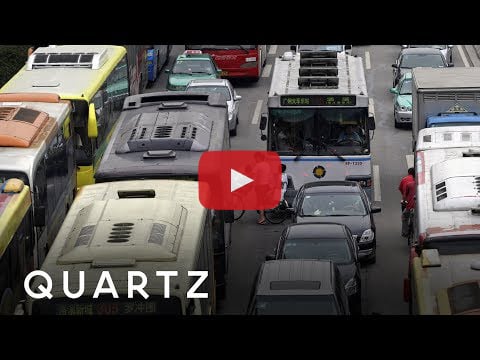 Splunk updates flagship suites with machine learning
Splunk on Tuesday outlined the latest updates to its flagship analytic suites with a focus on machine learning and AI advances. Specifically, the company updated Splunk Enterprise, Splunk Cloud, Splunk IT Service Intelligence (ITSI), Splunk User Behavior Analytics (UBA), and a new Experiment Management Interface for its Machine Learning Toolkit (MLTK).
Splunk said the new MLTK interface makes it easier to view, control, evaluate and monitor the status of machine learning experiments. The toolkit also includes new algorithms for identifying patterns and determining the best predictors for training machine learning models.
Impact of of AI on Government
On the de-industrialisation of Europe
AI and cybersecurity should be priorities in future EU industrial research policy in order to reinvigorate industry and recover jobs that have been lost abroad, according to Professor Jürgen Rüttgers, a former research minister in Germany. He leads the High Level Group on Industrial Technologies, which on 24 April released a report called Re-finding industry – Defining Innovation to make recommendations on EU research and innovation priorities for industry in the next funding programme.
Artificial intelligence is something relatively new and a field of strong competition, not only in the world, but also in Europe. It is therefore essential to find a common way ahead to encourage our research. Europe has long experience with identifying key enabling technologies and through these we can organise research and innovation, so we find the best answers from new technologies to benefit
our industries.
2018 Digital Understanding Report (doteveryone)
This report sets out a definition of digital understanding, explores in depth the UK public's understanding of technologies and exposes where the gaps lie.
How adverts target you – 45% are unaware information they enter on websites and social media can help target ads
How your personal information
is collected – 83% are unaware information can be collected about them that other people have shared
How prices can vary – 47% of people haven't seen prices change when they repeatedly search for an item
Viz.ai receives FDA clearance for stroke detection tech
Stroke detection startup Viz.ai announced Monday that the U.S. Food and Drug Administration (FDA) had cleared its Viz CTP technology. The Viz CTP uses image processing software to view and analyse CT scans for quick identification of stroke indicators.
Viz.ai develops deep learning and AI-powered technology that can analyse brain scans and automatically transfer the data to a doctor to ensure the most immediate treatment for strokes. The Viz.ai system connects to a hospital CT scanner and alerts the stroke specialist that a suspected LVO stroke has been identified, sending the radiological images directly to their smartphone.
Video Killed the Radio Star
AI in business – Paul Daugherty (Accenture)
In this video interview, industry analyst, Michael Krigsman, speaks with Accenture's Chief Innovation and Technology Officer, Paul Daugherty, about his new book called Human + Machine. This conversation explores the role of artificial intelligence in business and offers practical advice for senior leaders to innovate with AI.
Pepper the Robot is working at the Smithsonian for free
SoftBank's Pepper the humanoid robot has held a variety of odd jobs over the past few years, but a gig at the Smithsonian may be its most prestigious yet. Starting today, visitors can interact with Pepper at six Smithsonian locations to inquire more museum information, play games, or ask it to pose for a selfie. It even has its own security badge.
Unlike a few other commercial locations, the Smithsonian didn't actually buy Pepper robots for the museum. SoftBank donated 25 humanoid units as part of an experimental program to attract people to "under-attended galleries," which the company believes can help boost visitors' engagement with artwork and help give docents an interactive tool for educating their tour groups.
Published in