Wall-painting robots. AI + gambling. Who owns your data? http://www.cognitionx.com/news-briefing.
We're excited to announce that we have just published the agenda for CogX. With 300 speakers, 5 stages and over 110 hours of programming you'll find unmissable talks, events and discussions around every corner.
As promised we are bringing together leading thinkers like Jürgen Schmidhuber and Dame Wendy Hall with practitioners from FTSE 100s in AI to tackle the urgent, pressing issues that will dominate our immediate and long term future.
Tell us what you think on Twitter @cognition_X to win one of 10 free tickets before the end of tomorrow.
Buy now and save 30% on two day conference & expo passes with coupon code AGEN30.
Another Example of 'Robots Taking Humans' Jobs'
MIST paints your walls so you don't have to
If you've ever painted a room you know that getting every nook and cranny is pretty difficult and Tim Allen help you if you have hardwood or carpet. The tarp alone costs more than the paint. Now, thanks to MIST, your robot can manage the entire job, slapping paint up like a robotic Jackson Pollock.
The robot uses mapping technology and a sort of elevator-like neck to spray up and down walls. The team, which hails from the University of Waterloo, has finished their prototype and it's called Maverick. The team has experience working at multiple big names including Apple and Facebook. It includes Shubham Aggarwal, Utkarsh Saini, Baraa Hamodi, Hammad Mirza, and Dhruv Sharma.
Education and Advice We Rate
Who should hold the keys to our data?
Nigel Shadbolt and Roger Hampson write about how the Observer's Facebook revelations reignited debates about ownership of our details. They argue that while we seek privacy in parts of our digital life, open
data elsewhere could be a force for good.
Instead of power and information being corralled by the big beasts at centres they own, it could be dispersed across all of us, distributed, at the edge. This idea, sometimes called the fog rather than the cloud, is technically feasible. Data stores could be built into residential and office buildings, coordinated with a goodly proportion of the existing devices. On top of the political and social gains, there are at least two practical advantages.
How bookies use AI to keep gamblers hooked
The gambling industry is increasingly using artificial intelligence to predict consumer habits and personalise promotions to keep gamblers hooked, industry insiders have revealed.
"The industry is using AI to profile customers and predict their behaviour in frightening new ways," said Asif, a digital marketer who previously worked for a gambling company. "Every click is scrutinised in order to optimise profit, not to enhance a user's experience." Last August, the Guardian revealed the gambling industry uses third-party companies to harvest people's data, helping bookmakers and online casinos target people on low incomes and those who have stopped gambling.
Three IIT graduates have created India's first robot buddy for kids
Around a decade ago at the Indian Institute of Technology Bombay (IIT-B), classmates Sneh Rajkumar Vaswani, Chintan Subhash Raikar, and Prashant Iyengar were involved in a project to build intelligent underwater vehicles for the India Navy and the oil and gas industry. In the process, they developed a knack for artificial intelligence (AI) and robotics.
That culminated in their setting up of emotix in 2015, and this startup has now developed Miko, India's first companion robot.  An AI-based robot developed in association with an in-house team of engineers, mathematicians, artists, and neuro-psychologists, Miko goes beyond speech interface to respond to non-verbal cues like motion and physical gestures to incorporate emotions as well.
Ethics Question for the Day
Google co-founder Sergey Brin has warned that the current boom in artificial intelligence has created a "technology renaissance" that contains many potential threats. Writing in the company's annual Founders' Letter, published Friday, the Alphabet president struck a note of caution. "The new spring in artificial intelligence is the most significant development in computing in my lifetime," writes Brin. "Every month, there are stunning new applications and transformative new techniques." But, he adds, "such powerful tools also bring with them new questions and responsibilities."
Brin starts his letter by quoting the opening lines of Charles Dickens' A Tale of Two Cities — "It was the best of times, it was the worst of times." He notes how computing power has exploded since Google was founded in 1998, and how, at that time, the technique which now forms the backbone of contemporary AI, neural networks, was just "a forgotten footnote in computer science."
Ubuntu releases security, multi-cloud, container and AI OS
According to a recent release, Ubuntu 18.04 LTS, the newest version of the Linux distribution for workstations, cloud and IoT, is now available.
"Multi-cloud operations are the new normal" said Mark Shuttleworth, CEO, Canonical, and founder, Ubuntu. "Boot-time and performance-optimised images of Ubuntu
18.04 LTS on every major public cloud make it the fastest and most efficient OS for cloud computing, especially for storage and compute intensive tasks like machine learning." "Having an OS that is tuned for advanced workloads such as AI and ML is critical to a high velocity team" said David Aronchick, Product Manager, Cloud AI, Google.
Video Killed the Radio Star
Students at Rice University have created a special robot to help patients get equine-based therapy without needing a real horse.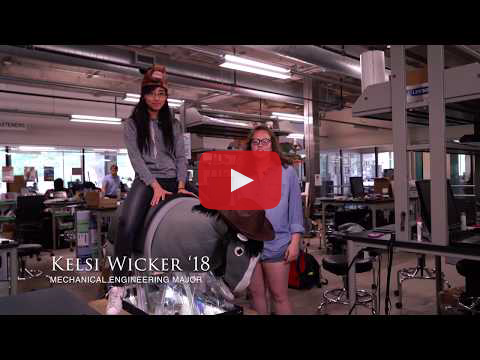 Adobe acquires Uru, an AI startup that embeds ads in videos
Adobe has acquired Uru, a computer vision company that helps marketers understand how they could leverage advertising inside videos, according to a post on the New York-based startup's website. Its software is supposed to understand the content of a video and then dynamically insert logos and other advertisements that match the video content and look like they were embedded there all along.
The Uru team will be working on Adobe Sensei, a nebulous umbrella encompassing all of the company's work with AI across its entire suite of products. Given their background, it seems likely that they'll be put to work on Adobe's Marketing Cloud applications.
Published in